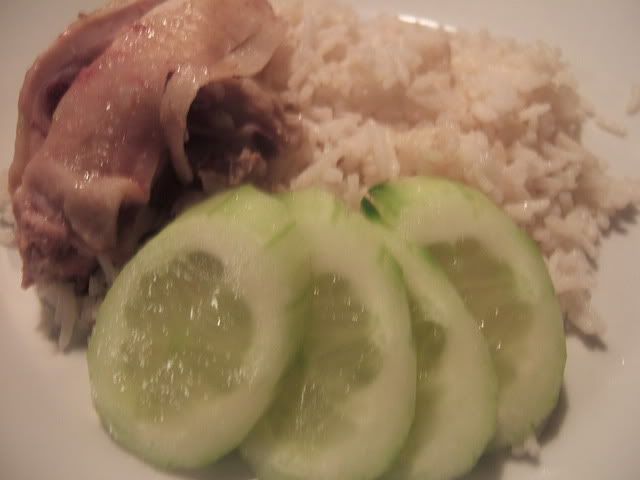 HAINAN CHICKEN RICE - recipe from Kak Rinn's fp, thanks.....

Ingredients for Hainan Chicken :

1 whole chicken
6 inch fresh ginger, peeled, cut into thick slices
2 stalks lemon grass
2 tsp soy sauce
1 tsp sesame oil
1 seedless cucumber ,sliced diagonally
½ tsp white pepper
2 tbsp salt

To Prepare Hainan Chicken :

1. In a large stockpot, add sufficient water, sesame oil, ginger, lemon grass, white pepper and about 2 tbsp salt, bring to a boil.
2. Submerge the whole chicken and immediately reducing the heat to a slow poach.
3. When chicken is cooked, discard ginger slices and lemon grass stalks from the cavity, drain the chicken well, set aside.
4. Keep the chicken broth(air rebusan ayam) to cook the chicken rice.
5. When the chicken is cool enough to handle, cut it neatly into serving size pieces.

Ingredients for Chicken Rice :

3 cups long grained rice, washed and drained
1 tbsp chopped garlic
2 tsp salt
2½ tbsp butter
6 cups, or more, chicken broth (air rebusan ayam)
3 screwpine leaves (Daun pandan)

To Prepare Chicken Rice :

1. Wash rice till water runs clear, drain well.
2. Heat rice cooker, add the butter.
3. Add chopped garlic, stir-fry for a few seconds.
4. Add the raw rice, stir-fry till the rice grains start to look translucent, about 8-10 mins
5. Add 6 cups chicken broth, salt and pandan leaves
(*Note: depending on the type of rice, use more or less of the chicken broth)
6. Bring to a boil, reduce heat, simmer uncovered, until the chicken broth is absorbed by the rice (small 'bubble' holes start to appear on the rice)
7.Cover the rice-cooker with the lid, let cook as usual.
DO NOT open the cover, wait for 10 mins before opening (steam inside will gently finish steaming the rice)
Fluff up the rice with a fork (If rice is not fully cook, simply add a little chicken broth, cover and steam on very low heat for another 5 mins or so)

Any leftover chicken broth after making the rice, can be served as a small side soup, garnished with some chopped celery and fried shallot.
Line a serving platter with cucumber slices, arrange chicken pieces on top, sprinkle with soy sauce, sesame oil, and garnish with tomato slices, lettuce/salads.
Serve the set with side soup, soysauce and Special Chili Dipping Sauce. The smell is simply irresistible..
buat jugak pau kukus tapi tak menjadik ....tak cantik dan tak licin pun....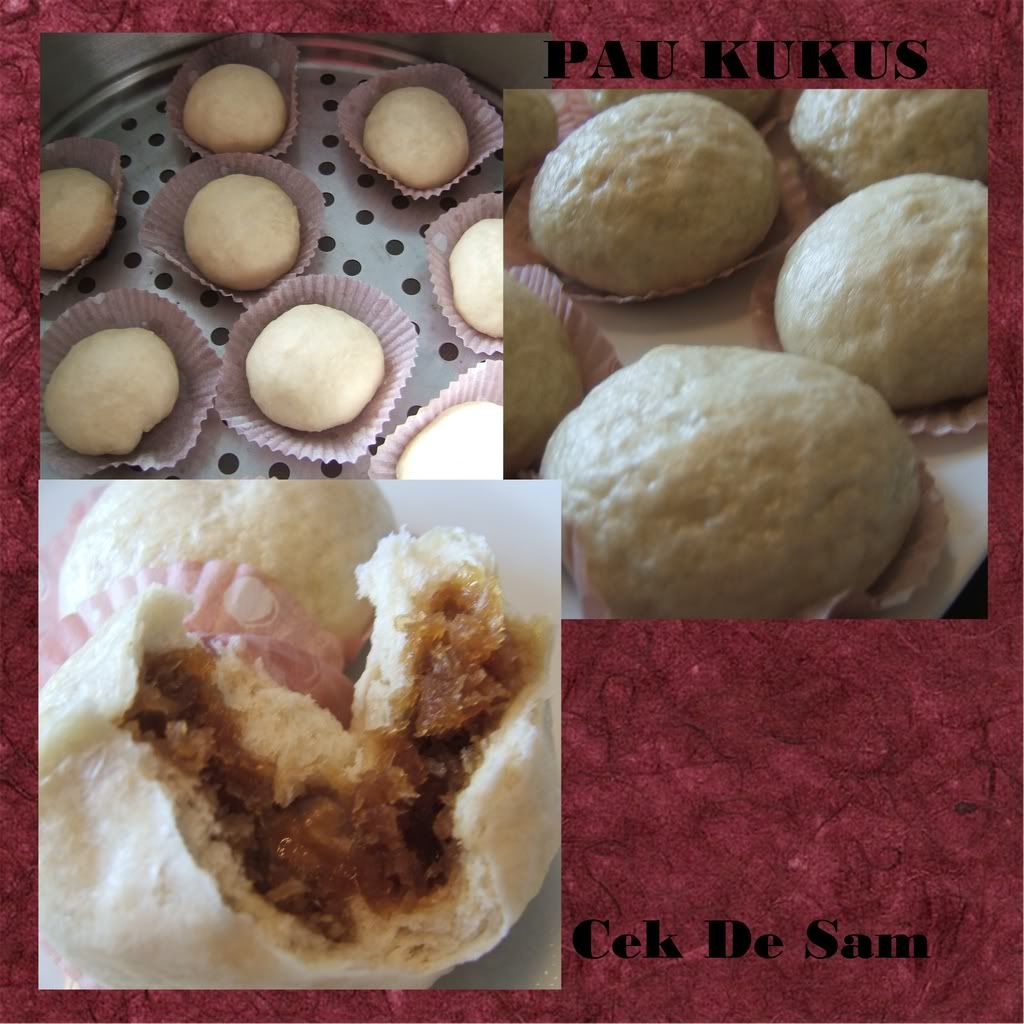 Quote:
GAMBAR-GAMBAR KITA AMBIL SEMASA KELUAR DGN SALWA (STUDENT MSIA- UNIVERSITI PERLIS )